June 5, 2013 -
Successful UK road tests of a first Horizon fuel cell powered vehicle, 100 miles driven so far.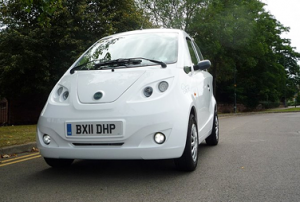 London & Singapore — June 5, 2013 – UK on-road trials of the first AUTOPAK fuel cell system installed in a vehicle are now in progress, and have so far accumulated 100 miles in a broad range of road, traffic and weather conditions.

The new power module is enabled by next generation hydrogen fuel cells from Horizon, and designed into a system for automotive use by London-based Arcola Energy. The first unit is installed in UK's Microcab lightweight fuel cell vehicle developed in partnership with Coventry University.
The Microcab vehicle will be the first in the European Union Fuel Cell and Hydrogen Joint-Undertaking funded SWARM project (Small 4-Wheel fuel cell passenger vehicle Applications in Regional and Municipal transport) which will see a total rollout of 90 trial vehicles over the next 3 years, to gather data on vehicle usage patterns as well as their hydrogen refilling stations.
​
The Horizon AUTOPAK enabled vehicle will be demonstrated to the public and to fleet vehicle buyers at the 'Company Car in Action' event to be held at Millbrook on 11-12 June 2013. Millbrook is one of Europe's leading vehicle test and development centres with a history of proving innovative British automotive technology.

May 9, 2013 -
1st samples available for NEW Smartphone controlled i-H2GO solar hydrogen miniature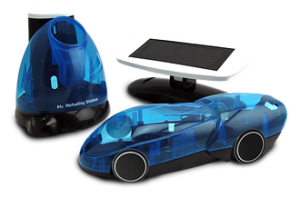 After 2 years of development, and a legacy of award-winning innovation in the model RC car department, Horizon's latest product will surpass them all. The handset controls remove the need for disposable batteries typically powering remote controls, and hydrogen production is now made easier with new USB charging capability.
​
The car itself is pretty high-tech, even by Horizon standards…it offers a hybrid hydrogen power system with bluetooth control, Android as well as iOS systems with free downloadable apps.

The car will take 2 minutes to charge and will run for up to 5 minutes. It will run faster than any of Horizon's other miniatures, and the controls are nothing short of spectacular. Cruise control, visually interactive toggles for acceleration and amazing gyro steering using the phone's inner gyroscope….This means you hold the phone like a steering wheel, and control the car from turning the virtual steering wheel side to side as you would a real car.

Horizon's new i-H2GO start shipping this month and aim to debut sales during the coming fall and winter of 2013.

May 5, 2013 -
French Minister of Transport hands innovation prize / HOrizon's H-CELL powers car for 212 km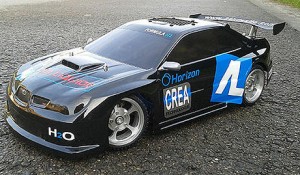 Mr. Frédéric CUVILLIER, French Minister of Transportation, Sea and Fishing, handed out the trophy cup specially made for this challenge, which was to keep a hydrogen-powered car using rain water, with hydrolysis done by solar panels, working under competitive conditions for 24 hours non-stop. Participating students made very interesting measurements, in particular pertaining to the increase in the duration of accumulators thanks to the fuel cell.

The Saint JO 24-hour race involves remote control cars and is based on the world-famous Le Mans 24-hour race on 1/10th the scale. It has been carried out for 13 years by the French Lycée Saint JO.

"The idea behind the race is to motivate our students in their training," Daniel Kern and Thierry Maison told La Voix du Nord. They are engineering teachers at Saint-Jo and the co-organizers of the 24-hour race. "No more throwaway parts that serve no purpose. Now we have a full-fledged project that entails creating remote-control cars and a race track. From sketching the parts beforehand to assembly and testing, everything is done by the students, who are all high-school level and studying general subjects and the sciences, not to mention industrial technologies and sustainable development. The materials uses are the same as those used in the world of Formula 1 racing — carbon, aluminum, etc."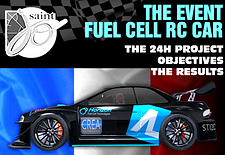 Click here to view the full report!!